Dirty Laundry
By: Erika Banning Steip

First of all, I hate, loathe and despise laundry. I especially hate folding. That being said it is an inevitability. Our family does about 25 loads of laundry a week depending on whether or not we are having guests and need to launder extra bedding and towels. Needless to say- it is exhausting.

We use all natural products that are both scent and dye free because my little ones have very sensitive skin. This can be expensive, especially since my laundry soap supplier isn't making the soap I want right now (so that I can make homemade laundry detergent). I'm now on the hunt for a great natural soap company. See below for a great Home Spun detergent recipe.

Oh the stains! I tell you, washing my husband's clothes should win me an award. But alas, it is not to be. Speaking of dirty laundry, I found an exceptionally wonderful super cheap cleaner that gets oil stains out. I have used it on my tablecloths and napkins as well as the families super oil-stained clothes. What fabulous cleaner you may ask? Ammonia. What? Really? Yes- it is fabulous. I add ½ cup to my super dirty loads. I especially like soaking a wash in the machine overnight using ammonia, for those tough stains. I use it on color loads, because you can't use bleach. FYI-don't mix bleach and ammonia together. It is bad news. Don't ask me how I know this. Bad.. News.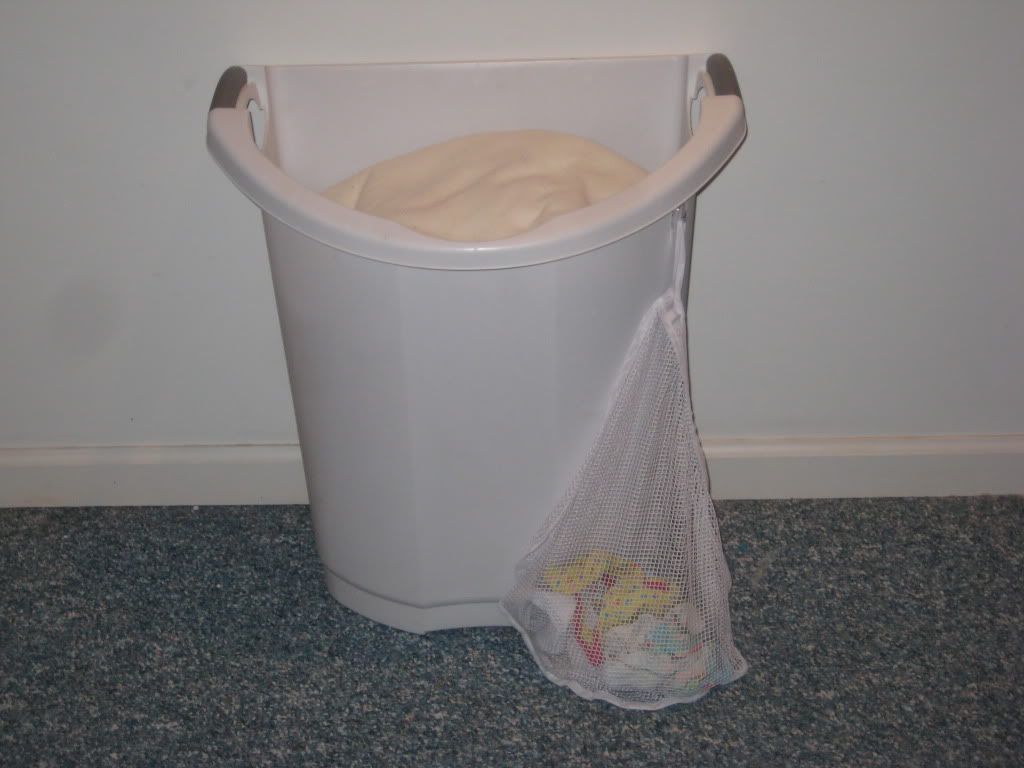 Each bedroom has a laundry zone complete with a laundry basket and zipped net bag for unmentionables and socks. This is imperative because the sock monster loves to hide socks and underwear in very odd places. To reunite lost sock pairs, we have a clothes line furnished with clothes pins hanging in our laundry room where we pin any clean sock that hasn't found its match. When we find the other one we put them together. How romantic. If my children can't find matching socks then they use mismatched socks. After all, matching socks is a societal rule that doesn't make much sense anyway.
This may sound sacrilegious to some but I see no point in folding underwear or pajamas. This opinion is bred out of laziness and a who-cares attitude. I just don't see the point in having wrinkle-free undies and PJ's. They are going to wrinkle anyway, right?

Many people have asked me whether or not children should participate in laundry duties and I definitely say a resounding YES. Laundry is an excellent job for children ages two and up to participate in, with supervision. They help sort clothes (great for working on color recognition), help load the washing machine and the dryer. When they are young and short I have them push the laundry into the dryer after I have placed it on the inside of the door. Now that some of the children are older they get to clean out the fuzz trap and start the dryer. Having the children help does take more time so plan accordingly. All of their efforts help me greatly and provide a wonderful opportunity for me to teach them about responsibility and work ethic.

As I mentioned before, I hate folding. As a general rule I don't do it, except for our newborn who has clothes that have to be folded. Heck I don't even fold my own clothes. I prefer to hang them up. If it isn't important enough to hang up then, generally speaking, I don't care if it has a few wrinkles.

After laundry is taken out of the dryer, the kids and I sort the clothes into "neat" piles. The children are then expected to take their clothes, fold them (should they choose to) and put them away. I only really make them fold their nice "church" clothes. My daughter, Lauren, is very fastidious about folding so she is naturally annoyed that I do not make it a hard and fast rule.

I want to discuss laundry and pets. We have an uber cute, exceptionally yappy miniature pincher named Peppi. She is a laundry sick-o. Let me explain. She loves loves loves to eat underwear and any apparel that covers that part of the body. Needless to say this can be annoying. I have personally lost over 25 pairs of underwear to my weirdo dog.
One time I bought a cute pair of jeans. I tried them on to show my husband and made the mistake of hanging them on the back of a child safety gate. The next day I went to try on my jeans and I find them bunched on the floor. Of course I assumed that one of my little ones pulled it down. I picked the jeans up and proceeded to try them on. Well, let's just say that they felt funny (by funny I mean drafty).. My husband walks in and states, "Well honey, that's an interesting place for a whole in your pants." I looked down and Peppi, the sweet dear that she is, ate the entire crotch portion out of my jeans. It practically looked like I was only wearing chaps. Argh! The morale of this little story is that one must always put laundry where it belongs in a dog proof hamper or in a closed laundry room.

Laundry will always be a source of angst for me but I've come to realize that with a little organization and kids to help with it, it can be at least a little bearable. It is a tedious, necessary task. When I am loading wash after wash I think of the scripture, Philippians 2:14 which states, "Do all things without grumbling and complaining." What can I say-- I am a work in progress.


Here's my recipe for all natural laundry detergent that is not only effective and eco friendly but also saves a ton of money.
Homespun Laundry Detergent
I purchased all these ingredients at my local grocery store:
· 1 – 76 ounce box of 20 Mule Team® Borax = $4.99
· 1 – 55 ounce box of Baking Soda = $3.99 (also great as a pretreater)
· 10 bars of all natural bar soap. OR you can use
· 1 – 10 pack of 4.5 ounce bars of Ivory® Bar Soap (**note** you can use whatever suits your fancy. I use all natural soaps that have no parabens, sodium lauryl sulphates, phosphates and no petroleum products which include dyes and scents.)
First shave the soap down using a small hole grater of choice. Mix all ingredients together. And there you go. That's it. Each load only requires 1-2 tablespoons depending on whether or not it is a heavily soiled load. This soap is okay for HE washers.
Cost comparison breakdown
· Seventh Generation® 2X- 150 ounce detergent – $19.97 – 99 loads = $0.20 per load
· Tide® with Bleach Powder- 267 ounce detergent – $20.32 – 95 loads = $0.21 per load
· Erika's Home Spun Detergent- 176 ounce detergent – $15 – 352 loads = $0.05 per load
As you can see, whether I compare against traditional or natural store bought liquid or powder, I am saving $0.16 per load! For my family that means we save approximately $208 dollars a year!

---
Erika Banning Steip is a mommy, domestic engineer, home educator, special event planner, natural childbirth educator, speaker and owner of www.givingbirthgodsway.com. Before domestic life took hold, she received her degree in Recreation and Leisure studies from California State University Long Beach and then became a Recreation Coordinator for the City of Los Angeles. There she did everything from organizing and implementing field trips to planning special events. She enjoys traveling the United States and enjoying most recreation activities with her husband and her 5 children.